There are undoubtedly dozens if not hundreds of movies that fit this bill. The list below includes films that not only involve moving of some kind, but that are popular for good reason.
10. The New World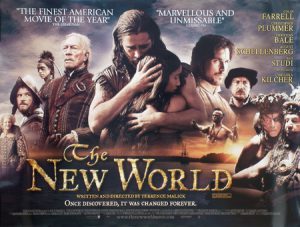 John Smith and his crew of three British ships land in what is now Virginia to establish the first British colony in the New World.  Along the way, Smith falls in love with Pocahontas, to the chagrin of her father. When Smith is sent back to England, Pocahontas marries another Englishman, John Rolfe. The film ends with Pocahontas leaving the New World for the old, moving to England with her husband. Directed by the elusive Terrance Mallick and beautifully shot with haunting imagery, this is the story of two people who move from the safety of their homes to completely foreign, possibly hostile lands.
9.  A Streetcar Named Desire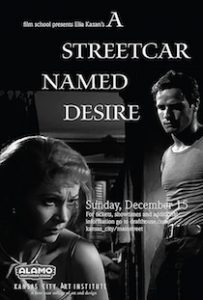 Is there a more tragic character than Blanche DuBois, the once glamorous southern debutante who is forced to move in with her sister Stella and brutish brother-in-law Stanley? As the story progresses, Blanche's regal demeanor is slowly chipped away by Stanley as he digs up more and more details of her not-so regal recent past. By the end of the film, Blanche's fall from grace is complete and she is forcibly removed from Stella's apartment to be moved to an asylum. Based on Tennessee Williams's famous play, brilliantly directed by Elia Kazan, and with star turns by Marlon Brando, Vivian Leigh and Kim Hunter, it is a true classic.
8. The Visitor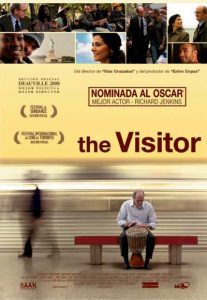 Walter, a widower, lonely college professor heads into New York City to attend an event where he finds a couple has illegally moved into his seldom-used apartment. He reluctantly allows the couple to stay, and for payment, the husband Tarek begins to teach Walter African drumming. Walter begins to fall in love with drumming and gains a new love of life. When Tarek is arrested on a technicality and deported, Walter finds himself fighting to bring him back, and begins to fall for Tarek's mother Mouna along the way. Directed by Tom McCarthy (whose first film The Station Agent was a contender for this list) with a terrific performance by Richard Jenkins, this indie gem explores many issues facing immigrants in America today and is a lovely meditation on how art can change lives.
7. The Kids Grow Up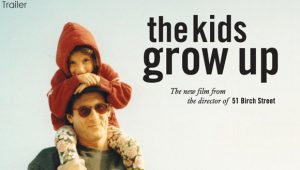 Doug Block's beautiful and personal documentary about his daughter moving out of his house and on to college. Mr. Block compiles years of footage of his family and the audience gets to watch his daughter grow into a young woman over the course of the film. The film delves into the complicated and ultimately loving relationship he has with his wife and daughter, not shying away from the ugly moments that come with growing up. At the end of the film, he and his wife drop their daughter off at her new school. She is moving on to a new life and adulthood, and they are now left behind to rebuild their lives without her.
6. Pan's Labyrinth
A little girl is forced to move into a new home when her widowed mother re-marries a sadistic captain in Franco's Army following the Spanish Civil War. Part fantasy and part wartime thriller, the little girl fall deeper and deeper down the rabbit hole as she carries out tasks appointed by a fantastical faun. Meanwhile, the loving housekeeper who becomes her caretaker is secretly working for the revolution, collecting information on her employer. Brilliantly directed by Guillermo del Toro, this film is full of horror, from the creatures the little girl encounters in her adventures, to her new stepfather, who turns out to be worse than anyone or anything she can imagine.
5. Let the Right One In (Låt den Rätte Komma In)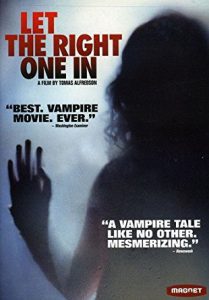 Oskar, a bullied young boy in 1980's Stockholm, befriends Eli, a mysterious young girl who moves in next door. As the bullies are becoming more bold and more violent, it also becomes apparent that Eli has very dark secrets of her own. The final confrontation with Oskar and his bullies goes too far. With his life on the line, Eli finally reveals her true nature, resulting in one of the best and most shocking horror scenes in all of film. At the end of the film Oskar and Eli are on the run, moving to a new town, with Eli literally hiding out in a moving trunk. This film ushered in a new genre of realism in horror films and brought a whole new meaning to the phrase "girl next door".
4. Up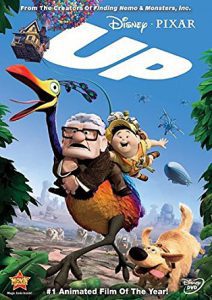 Carl, an elderly man who has just lost his wife, wants to live out the rest of his life alone at Paradise Falls, a faraway tropical land he and his wife always dreamed of but never got to visit. With nothing left to lose, he ties hundreds of balloons to his house and decides to fly to Paradise Falls, house and all. His plan, as many do, goes awry when he find that a young boy, Russell, has stowed away with him. When they finally arrive at Paradise Falls, instead of the peaceful retirement Carl has envisioned, he and Carl end up in a fight with a greedy mercenary to save an endangered bird and her family. A gorgeous film by Pixar, with Ed Asner brilliantly adding his voice for Carl, this is a film about love, loss, and a man who realizes that adventure is waiting where you least expect it.
3. The Sound of Music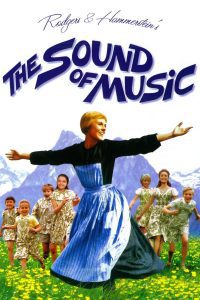 An enthusiastic but headstrong young nun (Maria) is sent away from her convent to live with Captain Von Trapp, a widower, and his 7 children. The family is difficult and surly at first, but Maria's enthusiasm and sweet nature are infectious, and boy can she sing! Even the coldest heart eventually melts, just like raindrops on roses. Maria wins over the children, and eventually Captain Von Trapp too. However, their happiness is short-lived as the start of WWII and imminent Nazi occupation finds them in danger. The family is forced to move from their lovely home, escaping using the only weapon they have: song. This is a film that everyone knows and loves, and with good reason. I challenge you to watch this film and not have a smile on your face by the end.
2. Umberto D.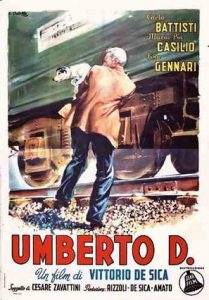 Times are hard for everyone in post WWII Italy, but especially so for Umberto D., a retired man with no family, no prospects, and little money. He does, however, befriend the young maid who cleans his apartment building (and has plenty of troubles of her own) and has an adorable dog named Flike. When his landlady successfully evicts Umberto for failing to raise enough money to pay his rent, he becomes desperate. He is forced to leave his home with nowhere to go. With nowhere left to turn, Umberto tries to commit suicide by jumping in front of a train. At the last second Flike runs away in terror, and Umberto realizes he can't leave his precious dog alone in the world. Now considered a masterpiece of Italian neo-realism, Umberto D. is masterfully directed by Vittorio De Sica, who uses non-professional actors to great effect.
1. Spirited Away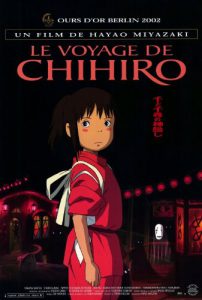 Arguably one of the most beautiful animated films ever made. A little girl and her family are moving to new town when they are unknowingly re-routed to a mysterious land. All the girl's fears of moving somewhere new and being alone are realized when her parents are magically turned into pigs and she is left on her own. The little girl must learn to adapt and fit in in order to survive in a world filled with demons and spirits. In the end she rights a wrong and helps many of the inhabitants along the way, and is able to get her parents back. As they drive away, she realizes that starting life in a new school and in a new house will not be so bad after all. Hayao Miyazaki is the master of Japanese animation, and this is considered by many to be his masterpiece.
What are your favorite movies about moving? Share them with us!